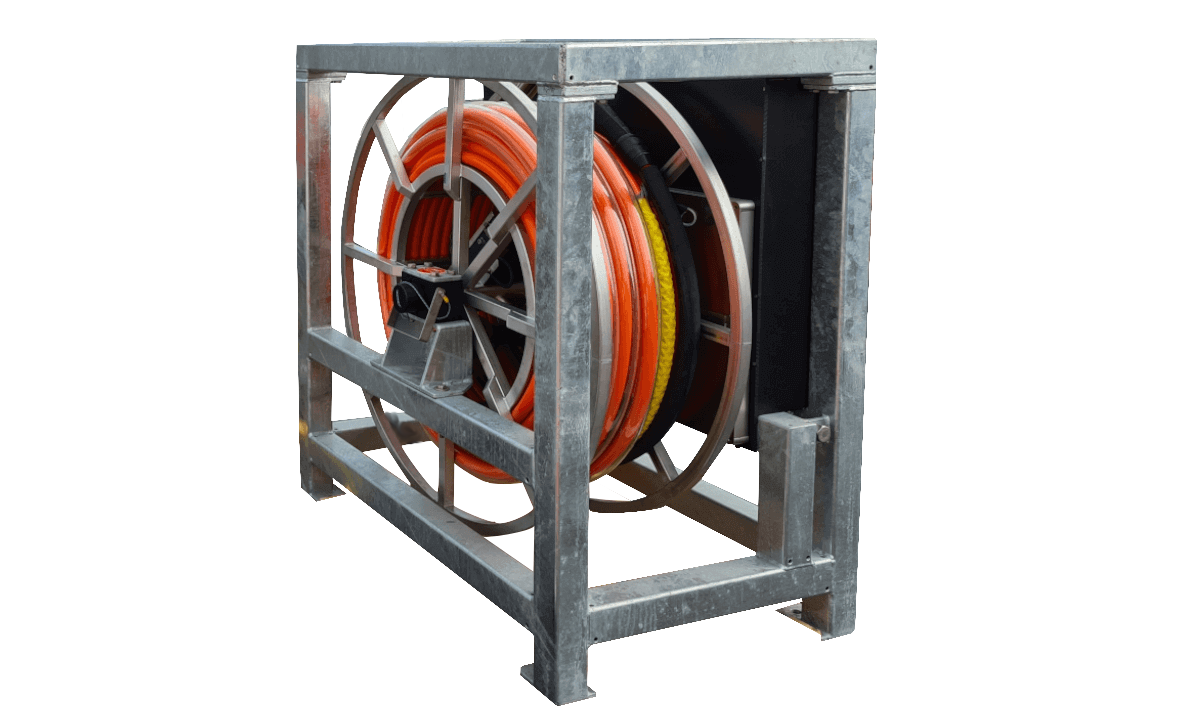 Winches, Reels, Tow Cables and Deck Leads
Electric Winches for HV Tow Cables
Our winches and cable reels, build with the best quality materials, are lightweight and sturdy
Description
---
OPERATION
The High Voltage cables can be operated from manual cable reels or electrical winches, utilizing these equipment allows to deploy and recover the high voltage cables with ease, safely and without any danger for kinks.

The Pulsed Power Supply is connected to the cable reel or winch by a 25 m deck lead, the cable reel or winch handles the high voltage cable, which is connected to the source.

WINCHES AND CABLE REELS MODELS
The High Voltage Cable Reels are operated by hand with the standard 75 m floating HV cable.
The Electrical High Voltage Winches are offered in four standard versions:
Single HV Winch;
Dual HV Winch;
Triple HV Winch (75 m);
Triple HV Winch (125 m).
Specification
---
Frame

Hot dip galvanized

Frame shape

stackable square box frame

Reel material

Stainless steel

Mode of operation

Remote control with selectable speed

Dimensions in cm (L x W x H) Single: 120 x 80 x 134
Dual: 131.5 x 99 x 139.5
Triple (75 m): 156.5 x 130 x 171
Triple (125 m): 162 x 145 x 180
Weight while empty (kg) Single: 250
Dual: 300
Triple (75 m): 400
Triple (125 m): 450
Power

360 V/16 A

Gear motor power (kW) Single: 0.55
Dual: 0.25/0.55
Triple (75 m): 0.75/1.1
Triple (125 m): 1.1
RPM (out) Single: 8
Dual: 6/8
Triple (75 m): 6/7
Triple (125 m): 7
RPM (out) Single: 8
Dual: 6/8
Triple (75 m): 6/7
Triple (125 m): 7
Get in touch and know more about our solutions