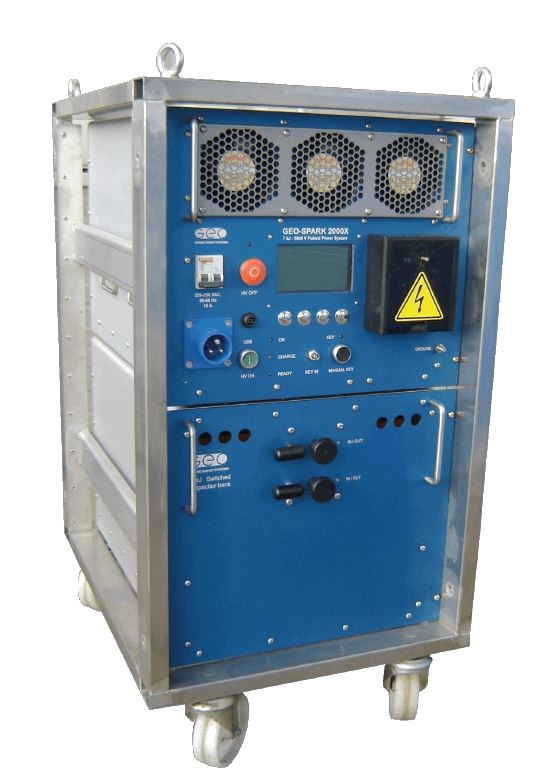 High Voltage Power Supplies
Geo-Spark 5kJ Extension
Achieve 7000 J with the Geo-Spark 2000XF and broaden your ultra-res seismic survey capabilities.
Description
---
EXTEND THE GEO-SPARK 2000X ENERGY RANGE
By adding this switchable 5 kJ capacitor unit you can achieve 7000 J with the Geo-Spark 2000X and expand your research to deep waters.
RESOLUTION AND PENETRATION
The Geo-Spark signature consists typically of the very strong explosive pulse (CF>1000 Hz), which provides the very high resolution, followed by the implosive pulse (CF<750 Hz), which achieves the penetration. The High Power Geo-Spark Systems have a
Proven track record of successful use in prestigious Oceanographic Research Programs - check out our
gallery
for great examples.
Specification
---
Dimensions (cm) & Weight

70 (L) x 50 (W) x 100 (H) for 150 kg (including stainless steel frame)

Mains Power

220- 240 V AC, 50-60 Hz, 16 A

High Voltage

-5600 V for real acoustic punch

Energy output

selectable from 100 to 7000 J

Operational depth

up to 2500 m

HV charging capability

2000 J / sec

Trigger interval at maximum energy

1 shot every 4 sec at energy of 7000 J

Recommended sources Geo-Source 400 (marine and freshwater).
Geo-Source 800.
Get in touch and know more about our solutions