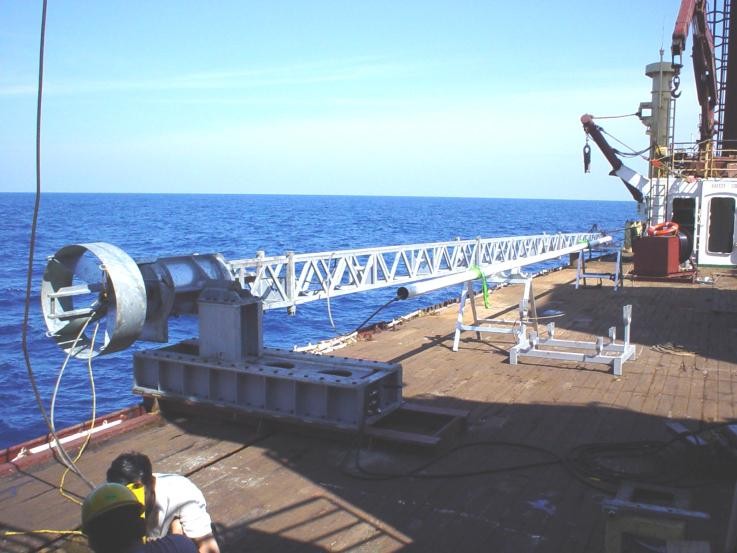 Geotechnics
Geo Piston Corer
Modular Piston Coring System.
Description
---
SYSTEM DESIGN
The piston corer, including the unique launch and recovery system (LARS), has a modular design and is available in four standard lengths of 6 m, 12 m, 18 m and 24 m, but can be customised for your specific project, even to 30 m.
All parts fit in a standard 20-foot container that can be used for transportation, storage and for operations offshore.
All the carbon steel parts are hot-dip galvanised to protect against corrosion.
The system features a standard storage rack, a comprehensive selection of spares, and a complete set of tools for efficient and safe operation.
PISTON CORE OPERATIONS
Piston coring has the advantage over gravity coring because it exerts a reduced downward force on the seabed, minimising the disturbance of the sediments.
The piston corer uses its free-fall kinetic energy and weight to drive the core barrel into the seabed. As the barrel penetrates the seabed, the piston action removes the residual water contained in the sample liner, avoiding any pressure increase above the sample.
This quasi-suction action increases seabed penetration and thereby permits the collection of long, undisturbed sediment samples.
A especial valve in the piston allows the operator to select the maximum under-pressure required to prevent the PVC core liner from imploding.
COMPATIBLE CONSUMABLES
IAll consumables of the Geo-Piston are compatible with our
vibrocoring systems: cutting heads, core barrels, liners, caps,
core catchers etc. - so we can offer a very competitive price for all our corer consumables.
ACCESSORIES
We can offer a full range of optional accessories:
hydraulic over-the-side deployment mechanism;

hydraulic David fo assist the deployment;

hydraulic core extrusion device;

longitudinal liner cutter.
Operational Features
---
⟶

Modular (all parts fit in a 20-foot container).

⟶

Can be easily configured as required.

⟶

Versatile: 3m, 6 m, 12 m, 18 m, 24 m length.

⟶

Intelligent regulated piston.

⟶

Quality cores of 106 mm diameter.

⟶

Proven sample recovery up to 24 m length.
Applications
---
- Dredging.
- Oceanographic Research.
- Coastal and Offshore Engineering.
- Mineral Exploration.
Specification
---
Please download the brochure for detailed description and specification

-
Get in touch and know more about our solutions