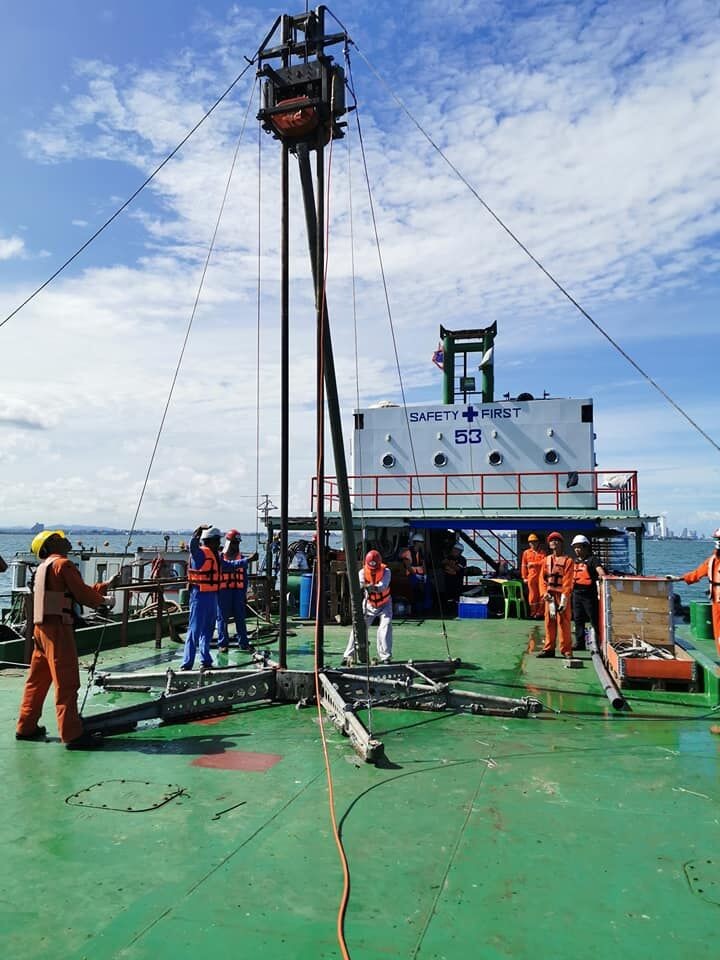 Geotechnics
Geo-Vibro Corer
High Frequency Vibro Coring System.
Description
---
HIGH FREQUENCY VIBRO CORING
The Geo-Corer 3000 + 6000 is a high frequency (28 Hz), electrically driven vibrocoring system. It can penetrate fast (thereby enhancing the quality of the core) into all common sediment types. Including compact sands, stiff clays and even unconsolidated chalk.
VARIABLE CORING PARAMETERS
The two standard configurations are designed to take high quality cores of 6 m or 3 m length, in ordinary PVC liners with an internal diameter of 106 mm.
The penetration force can be adjusted by varying the dead weights on the vibrator head.
PROVEN PERFORMANCE
The Geo-Corer 3000 + 6000 has a proven performance over many years, even in extreme conditions. The very fast penetration rate results in high quality cores with a
minimum of sediment disturbance.
LIGHTWEIGHT STRUCTURE ALLOWS SMALL VESSEL OPERATION
This modular system can be assembled manually in two hours (a crane is required to bring it upright) and can be deployed from a relatively small vessel. Because of its lightweight construction and smart pull-out system, it requires a limited hoisting power of five tonnes maximum. Also, its low overall weight minimizes transportation costs.
PIVOTING COREL BARREL HEAD
The pivoting head allows rapid change-out of the core barrel and easy retrieval of the core liner, while the vibrocorer remains in the upright position.
DEEP WATER OPERATION
The Geo-Corer is rated to a maximum water depth of 300 m. It can be upgraded to the pressure-compensated version for operation in water depths down to 600 m and more.
DEPLOYMENT AND HOISTING BY CRANE
The 1:4 pulley system of the Geo-Corer generates an barrel extraction force equals to 4 times the hoisting force. This means that a 5 ton crane will meet the maximum design criteria of 20 ton. Most cranes have enough drum capacity to accommodate 100- 200 m.
However, the use of an adequate cable is imperative:
14 mm, 35 x 7, anti twist steel cable;

18 mm, Dynema, floating kevlar cable.
CUSTOM BUILT HOISTING WINCHES
In collaboration with various specialized manufacturers we able to offer a full range of hydraulic winches, all custom designed to meet the requirements of geotechnical and oceanographic survey:
from shelf down to oceanic depths;

autonomous mobile units;

fixed installations;

fully certified.
VIBRO CORE CABLE REEL FOR DEEP WATER
We also offer the constant tension winch with 1000 m umbilical for deep water.
Operational Features
---
⟶

It only takes 3 minutes to acquire a 6 meter core in dense sands.

⟶

30 kN impulse at 30 Hz for fast penetration.

⟶

Reliable, lightweight & cost effective.

⟶

Modular construction (cores of 3, 6, 9 OR 12 m).

⟶

Pivoting core barrel for horizontal retrieval.

⟶

Water injection for deep cores of 12 m and applications onshore & in transition zone.

⟶

Optional pre-pressured or compensated model for deep water operation.
Applications
---
- Dredging.
- Oceanographic Research.
- Coastal and Offshore Engineering.
- Mineral Exploration.
Specification
---
Frame

hot dip galvanized

Frame shape

stackable square box frame

Reel material

stainless steel

Mode of operation

manual

Power

electrically or hydraulically powered

Notes

Constant tension control, 380 three phase slip rings

More...

Please download the brochure for detailed specification.
Get in touch and know more about our solutions